Anime Club Back in Action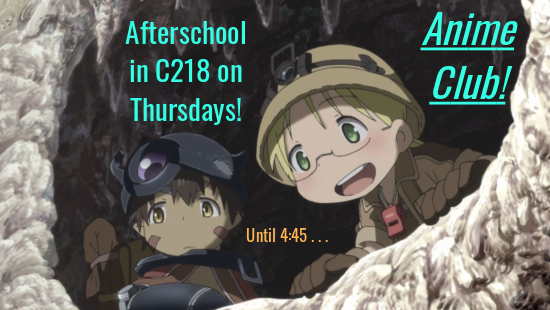 Anime Club fans are feeling the hype as the group announces the start of another year of socializing and foreign entertainment. Mrs. Olivas has agreed once again to host the club.
Posters are hanging around the school to display the work of members in search of more members; the club will be held in C218 on Thursday afternoons from 4:15 to 4:45.
The first meet took place on Oct. 18. The officers of the club are hoping for a new year full of fun developments, starting with the reorganizing of the workings of the previous year.
"I don't have major complaints; I just think we could do a lot more," Anushka Karthikeyan, 2019, said.
Though not entirely reflective of Asian culture, anime is seen as a window to another world of storytelling and a representation of what appeals to particular demographics. Anime Club explores this appeal.
"It provides a space where students can interact with other students with similar interests," Johi Jakir, 2019, said.
These interests happen to be Japanese animations, manga, and various gaming events. Trivia will be held, along with an improved holiday party and a movie night.
"I hope that we get to watch anime and get to learn the dance to Lucky Star," Clover Snyder, 2022, said.
The vice president of the club described the benefit brought to attending students as a casual but engaging setting.
"Anime Club is like a hang-out with my friends. I find it kind of relaxing," Karthikeyan, 2019, said. "I hope we can have a larger variety with the things we do."
Similarly, the benefits can be seen outside of a school student's life, in certain cases.
"[Anime Club members] get to become obsessed with Japan; that increases their tourist sales. Because we like anime," Snyder, 2022, said.
Indeed, for the students who do become invested in anime through the club may be more likely to enjoy and spend money on foreign merch and events.
Despite some public opposition in terms of the supposed "uncoolness" of the enjoyment of anime, found both in Japan and the United States, members of Anime Club are prepared to show the value of having an open mind.
"I wish there were more people. This year I will have to advertise more," Jakir, 2019, said.
The projected total attendance of Anime Club is expected to grow by over 100%, according to a student-run survey taken in mid-2018. Anime Club members can breathe easy knowing there will be an increase in the number of participants for the years of 2018 and 2019.
"I was never in anime club last year but I heard that there weren't many people," Snyder, 2022, said. "And that it was fun but nobody would come."