Swimming for Success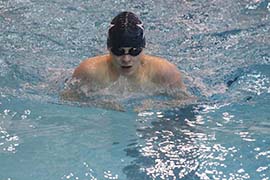 Hang on for a minute...we're trying to find some more stories you might like.
The Lone Star High School Swim Team is one of the schools most hardworking teams. Each swimmer tries their best and makes the LSHS proud. The season has been going great, and the swim team is widely supported. Alyssa Walton, coach of the swim team, is one of the team's biggest supporters. When asked if she was proud of the team, she had an ecstatic response.
"Ummm. . . Of course." Walton said. "I make sure they know I am always there and ready to help when needed."
Every member of the swim team have set a goal of a certain time and try each season to beat it. Usually, their goal is to beat their past season's best time. Samaya Pattim, a LSHS student and a member of the swim team has set a goal for herself and tries her best everyday to reach it.
"It's tiring but it helps," Pattim said, "It's fun trying to beat your previous times!"
Although LSHS is very proud of their swim team, they are not aware of the preparation that the swim team has to go through in order to make the school proud.
"I sit down with each swimmer and ask them what they feel they would be best at swimming for the meet," Walton said. "Then I know they have prepared themselves for that event and will give it their all when competing."
The swim team as a whole has become like a family, looking out for each other and cheering when a teammate competes. Everyone has become close because of their shared love of swimming.
"We've definitely become closer as a team since the start of the school year," Pattim said. "On the first day I knew, like, two people but  everyone talks to everyone now and we all have a good time together."
Every student who is a part of the swim team joined it for one reason; they love swimming. The experience they have been through have made them better swimmers and the school could not be more proud.
"I'm most looking forward to watching each swimmer grow as athletes and students," Walton said. "[I] Can't wait to look back in four years to see how far they've come."